A good work-life balance involves reconciling work and private life. The fields of work and performance, health and fitness, family and social contacts should be in harmony.
Mecklenburg-Vorpommern offers the best conditions to live this way.
Hardly any other state has this number of childcare facilities. More than 90 percent of preschool aged children attend a kindergarten in our state and receive a qualified preschool education. Since 2020, Mecklenburg-Vorpommern has been the first state to fully relieve parents of kindergarten fees.
Naturalness is our trump card: clean, healthy air, the elongated Baltic Sea coast, picturesque lakes, green meadows and forests, food that comes fresh from the field to the table - here you will find everything you and your family need for a fullfilled and healthy life. In M-V, children can do what they love to do: play in the garden in front of the house and get to know the animals on the farm next door. And the weekend trip to the Baltic Sea is often only a stone's throw away.
Our cities are also a great place to live with a family. Whether in the state capital Schwerin, the traditional Hanseatic cities Rostock, Stralsund, Greifswald and Wismar or in one of the cozy small towns - everywhere you will find carefully renovated city centers with a good infrastructure and sufficient opportunities for an active and modern family life - nature always on your doorstep.
In order to make it easier for all new citizens, newcomers and returnees to arrive in Mecklenburg-Vorpommern, there are seven Welcome Centers in the state. These also support companies in recruiting skilled workers.
Further information for families - in all life situations
Family-friendly companies in M-V
A family-conscious personnel policy is a competitive advantage to win and keep employees. The compatibility of work and family life pays off. These are the benefits that a family-conscious human resources policy:
greater employer atractivity and easier recruitment of skilled workers
less employee turnover
earlier return from parental leave
better working atmosphere, higher motivation and commitment of employees
less absenteeism (lower sickness rate)
In Mecklenburg-Vorpommern some companies and universities have already been certified under the AUDiT "Erwerbs- und Privatleben" or with the AUDit "familiengerechte Hochschule".
State competition "Unternehmer des Jahres in Mecklenburg-Vorpommern"
The state competition is advertising for the economy, for companies and for entrepreneurship. One of the four categories is "Fachkräftesicherung und Familienfreundlichkeit" (ensuring provision of skilled workers and family friendliness). Honores are companies that undertake special activities and efforts to secure skilled workers or companies that use individual solutions to family-friendly work organization and a good working atmosphere.
Seal "Familienfreundliches Unternehmen" of the district Ludwigslust-Parchim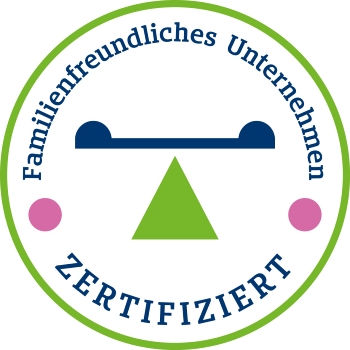 With many commitment and innovative work models companies in M-V make a family and working life possible. The companies havce a competitive advantage in their personnel marketing. The seal for family-friendly employers is an award you can apply to Wirtschaftsförderungsgesellschaft Südwestmecklenburg. The prerequisite is that these
companies actually offer family-friendly working conditions.
The seal is a clear commitment by an employer to its social responsibility. Companies can use it on all marketing channels to draw attention to their family-friendliness.
Interested companies can get further information and the application from the Wirtschaftsförderungsgesellschaft Südwestmecklenburg mbH: https://www.invest-swm.de/unternehmen/familienfreundliches-unternehmen/