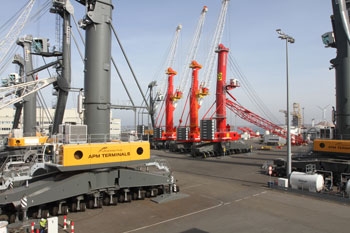 Liebherr-MCCtec Rostock GmbH in the port of Rostock; © Norbert Fellechner
Mecklenburg-Vorpommern is located in the heart of Europe with direct access to Scandinavia, the Baltic States and Eastern Europe. The state's business locations offer optimal conditions. They have good infrastructural connections, including roads, waterways, ports and railways, as well as internet connection
Ports in optimal locations
The ports are in particular outstanding importance due to their excellent geographic location. In the southern part of the Baltic Sea, they are part of a growth region. Our goal is to make optimal use of the spaces near the water by attracting companies from promising industrial and growth sectors.
Efficient transport infrastructure
Economic success often depends on how quickly something can be moved. In the interests of the economy, the state has taken up the challenge of designing a modern and efficient transport infrastructure. The Baltic Sea Motorway has strengthened Mecklenburg-Vorpommern as a business location. In recent years, we have also decisively improved the hinterland connections to the Baltic Sea ports. The construction of the A 14 between Schwerin and Magdeburg at the beginning of the next decade will also provide an ideal link between the production, trade and business locations of the northeast and the southern growth centers.
Forward-looking digital infrastructure
In addition to the classic transport of goods and merchandise and the increasing mobility of employees, meetings in the digital space and the exchange of information and data are getting indispensable. The Internet and digitalization permeate all areas of daily life and influence the search for locations of companies. A future-proof digital infrastructure makes Mecklenburg-Vorpommern a profitable business location. The state government's goal is to provide the whole area with fast Internet. The nationwide expansion of broadband is very important for thar. In a first step, the expansion with 50 Mbit/s will be implemented. Over the next decade, the existing network will be gradually upgraded to a high-performance network available to everyone.